Hi there! I have what to me is super exciting! I work on a perfume counter and today in our cabinets we created some space for some new fragrances! Some are only new to the UK and we've heard about them from the States, but some are just brand spanking new!!
One I was super excited about and literally squeeled about is ....
TAYLOR SWIFT WONDERSTRUCK!!! I am a super duper Taylor fan & so love this perfume! It's her first fragrance and has this gorgeous hologram purple bottle with gold charms, something you have to see to fall in love with! My boyfriend Adam got me the 100ml Wonderstruck for Christmas and it cost £70 or something silly but it's being sold in my store for £20 - 30ml and £29.50 - 50ml! Super cheap! I'm so excited for that one! I love the tea notes and the raspberry, it's quite different but still a lovely fruity scent! I hope having it in my store doesn't make me lose my love for it!!
Katy Perry Meow. Her second fragrance and follow up to Purr! It's an adorable bottle and must have for cat lovers! The notes are supposed to be vanillery and yummy! I haven't smelt it yet but I so need this in my life!
The Ralph Lauren Big Pony collection for women! Now, you're all super girlie right? did your eyes go straight to miss pinky too? Yeah I fell in love with the colours on #2 straight away and when I smelt it it is my total favourite from the quad! #1 smells almost manly, it's the sport one so I guess that's about right considering it's usually only mens fragrances that go sporty! Not my fav! #2 was to die for. Fruity and girlie and yum! It really did not last on me, half an hour at most so I don't see this in my future, but it is much like Taylor's perfume! Still as I said, the colours! so good! #3 we haven't actually got in yet, its meant to be a yellow floral which to me is odd. I've heard of white florals and just normal florals like rose, but never yellow which is leaving me in suspense, I NEED TO SMELL IT NOW! (sorry, Verucca Salt moment) #4 is a second favourite! Described as being sensual I do agree, it's girlie but not so obviously candy strawberry smelling! Good for someone who still wants to smell yummy but in a more mature dramatic way maybe!! So far I like 2/3 I've smelt and theres still hope with the yellow one so yay! I really wanted to love these as I love how preppy Ralph Lauren is and a part of me would love to be a SoCo Holliser prep! So if I had one of these in my life maybe this Hertfordshire girl could live out her dream! ahhah!
DKNY I ♥ quad. Le sigh!! Donna Karan, if you stopped releasing Limited Edition after Limited Edition after Be Delicious I might one day get excited over this! I mean, it's cute enough yes, but really? You JUST released the Summer Macaroon Be Delicious. Which we only got ONE delivery of to sell. What?! Random! But to be fair, I don't even think the Be Delicious' are exciting anyway, the whole apple thing is lost on me, I dislike the original, I dislike the night, I dislike the pink, the red, the Limited Edition Pop Art bottle ... I could so go on. It really annoys me. I did like the Golden Delicious... but not enough, it was just the best of a bad bunch really! I really think she's like clutching at straws! Instead of taking her time making something amazing she's like churning out something that mildly sells well. So she's doing good instead of doing great and this is why she is not a top designer to me. I don't think her perfumes are anything of a cult brand and soon the Be Delicious fans will get bored and find something new and special to get excited over. Sorry about the harsh review! GOSH moaner!! I hope I like these and it will change my mind! there is a London (pink) Rio (blue) NY (green) & Paris (turquoise) bottle which to me is very Escada (rocking rio made me think of it) and Harajuku lovers! We'll see eh? We'll see indeed....
Lady Gaga Fame. I have never rolled my eyes but been so excited at the same time. I'm so ashamed. I dislike Gaga as a person, I feel she's a try hard and should just be herself. So when I heard her say "oh it will smell like my own blood and semen" I'm thinking dear, you are the only one who loves you enough to wanna smell your own blood. Get out. But I am curious. The bottle is going to annoy me if customers want to smell it. I'm going to hate to love it if that's the case but I have a feeling it will smell awful. The notes are.... odd... Bella donna is its main note... this is the most toxic plant.... seriously.. any quick google search tells you that it smells awful! The berries however are sweet to taste, but yes, will kill you. Belladonna is only used in one other fragrance, one called FREAK. If that's not a sign I do not know what is. I'll again have to wait and see. But .... Oh I just don't know anymore Gaga. I miss your hairbow.
Kylie Minogue Music Box. I could cry.... I was so looking forward to this! The bottle was beyond cute when I saw it. The idea was so different and the notes looked yum, Strawberry and raspberry! So when I saw it in my delivery on Thursday morning I literally yelped and grabbed the tester box ribbing it open then I said "Oh..." when this cheap feeling thing fell out.... the lid is plastic for a start, like an odd yellow gold colour.. okay... so is the sprayer! Eugh! I hate plastic sprayers! As I smelt it my hoped faded more. Where were the notes? I could not pick a single one out?! It just smelt like a blur of cheap "notes". I can't explain it. I tried it after half an hour... no development. It stuck around a while, but I'm not sure what it was sticking around for. I had no interest in it. It can wait all day. it can wait till it spawns a flanker called "music box STAR" or something and actually comes with notes so then maybe i will like it. Hate the bottle, hate the smell love the idea. SHAME.
Others include
Justin Bieber Girlfriend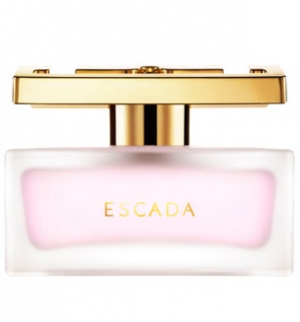 Especially Escada Delicate Notes
Dior Addict (L)Eau Fraiche (M) Eau Sensualle (R)Original Addict


Amy Childs (Sorry there is no bottle info IE photo or name) she has a perfume. Yes it's embarrassing. Yes I'm Excited.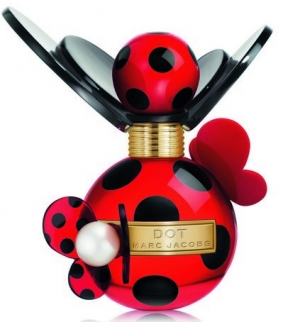 Marc Jacobs Dot (sigh)
Now that's all I can think of for now! I suppose there's a few more but these are ones I feel are more exciting! What do you think? Sorry about my moaning!! You excited for any??
Let me know I love to hear what you think!!!
With Love
xoxo