So for most of us it's a typical Febuary, which means you've maybe just found somewhere to store those hideous Christmas gifts ready to re-gift next year, days are getting slightly longer and Spring is getting so close! But to the marketing masterminds its not February at all, to them it's already summer and they're all churning out their summer editions, hey, they're probably working on next years editions already!!.
I'm never usually a fan of summer editions, I swear adding ginger to an already perfect fragrance just ruins it (more on this soon) ! However, these little beauties have converted me!
Marc Jacobs is a cutie, he knows what us girls want in a perfume; an adorable bottle to proudly display on our vanities and a gorgeous fragrance which causes people to ask that oh so important question;
"what are you wearing?"
His designs pull you in and even if you don't like the fragrance you'll want to just to get your hands on the bottles.
Personally, I'm not a big fan of the original Daisy, I prefer fruity scents so I was so excited to smell this, and did it disappoint? No it did not!! Not at all!
My boyfriend LOVED this on me, it was fruity and addictive and surprisingly grown up for such a playful fragrance, it had an edible note I couldn't put my finger on but I really cannot wait for this to be everywhere, this is on my birthday wishlist!
Notes:
Top:

Guava

,

Mandarin Orange

,

Red Currant
Heart: Lily Of the Vally, Lychee, Violet
Base:

Woody Notes

, Musk
(the ones in colours are what I think make it so yummy!)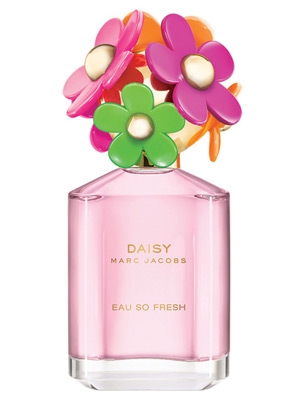 Daisy Eau So Fresh Sunshine
Its... So... Pretty I can't handle it!!
I was going to ask for the original for Valentines day but then the boyfie and I decided to eat our weight in Frankie and Bennys than do presents. But now I'm so glad I wont be getting that one, this one blows it out of the water!!!
It's still got the similar smell but sometimes Eau so fresh can give me a headache if i'm not on top form but this i feel i would be able to wear every single day!!
I just kept smelling this as I was wearing it, it's delicious!
Is it bad to get both for my birthday?!
Notes
Top:

Strawberry

. Apple Blossom, Pink Grapefruit
Heart: Rose,

Jasmine

, Violet Leaf
Base: Oak Moss,

Amber
(the ones in colours are what I think make it so yummy!)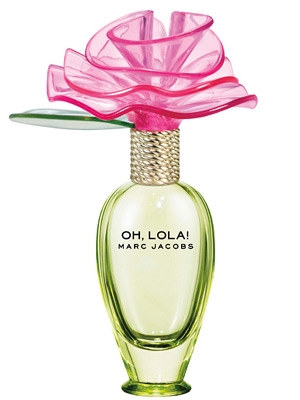 This one I didn't put on my skin, on the card it went almost almondy and so sweet it went bitter.
I just can't describe it, it wasn't unpleasant, it's just not what I wanted to smell like!
It's a shame as I adored the orignial when it came out and wore it constantly but even that turns on me sometimes! Some of you will rock the hell out of this I'm sure, it's just not perfect for me.
Notes:
Top: Pear,

Wild Strawberry,

Raspberry
Heart:
Magnolia, Peony,
Cyclamen
Base:
Tonka Bean,
Sandalwood,
Vanilla
(the ones in colours are what I think make it so yummy!)
Looking at the notes now I feel I should in theory love this one, I might have to give it another smell and actually try it on, however I feel it might be the tonka bean that was turning!
I'm surprised there wasn't a summer dot, that could have been cute! like an aqua blue colour with white and pink dots, never mind!
There are some exciting new fragrances coming out this year, of course there's your Armani diamonds summer 13 which is (SURPRISE) the same as last years but these are just something new and exciting to keep your eyes peeled for.
I've only seen these in one shop so far and thats the perfume shop, some have them some do not, but Boots will get them end of Feb so let the excitement begin!!
Will you be trying these?